Digital Microscopes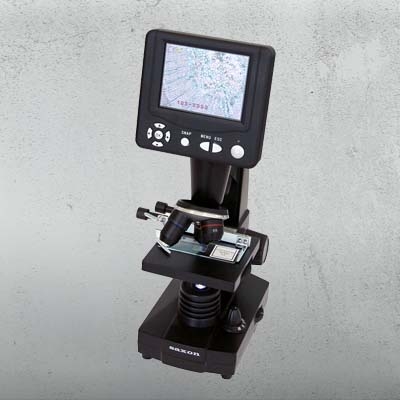 Digital microscopes are a great way to take pictures and videos of your specimen. Some biological microscopes come with attached LCD screen so you can do some digital imaging and observe the specimen at the same time; while some other microscopes come with a separate digital camera where you'll need to attach it to the microscope an computer.
SKU-311101

The saxon TKM ScienceSmart Biological Digital Microscope Kit is the picture perfect gift for scientists of all ages this Christmas!

This biological microscope comes with 3 objectives of 4x, 10x and 40x, a Wide Field 10x eyepiece as well as a USB digital eyepiece.

Easy to use and a great way to start exploring the micro-organism world around us.

SKU-313010

The saxon ScienceSmart LCD Digital Microscope is user-friendly, portable and requires minimal assembly.

This microscope is best suited for viewing biological specimens and can also be used to observe thin objects such as stamps and coins on the lowest magnification setting.

Perfect for both casual and serious use in the classroom, home or workplace.