ED Refractor Telescopes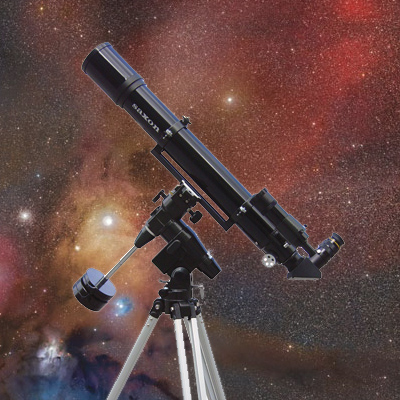 Considered by many to be the ultimate choice of telescope for astronomy and astrophotography!
Extra-Low Dispersion (ED) or Apochromatic Refractors provide excellent colour correction not found in Achromatic Refractors. For those seeking the ultimate viewing and astrophotographic experience, look no further than a saxon ED Refractor Telescope.
The saxon 80/600 AZ3 ED Refractor Telescope is the way to to go for impressive views every single time.

With an aperture of 80mm and a focal length of 600mm, this telescope is designed for easy use to view both land and sky objects. The compact size of this scope makes it portable and great for carrying around to the best viewing sites. Try your hand at astrophotography and digiscoping with this scope that comes with extra-low dispersion glass.

Take images of the Moon, planets, nebulae, wildlife and scenery with the saxon 80AZ3 ED Refractor Telescope!

Read More Add to Compare

Rock the universe with sights of the deep sky, thanks to the trusty saxon 100/900 EQ3 ED Refractor Telescope.

This portable telescope features an aperture of 100mm and a focal length of 900mm. The extra-low dispersion (ED) glass means your high-contrast, views are virtually chromatic aberration-free. Sights of Saturn's rings will keep you on your toes but it's sights like the Pinwheel Galaxy that will take your breath away.

For an affordable scope that will last through the years, you'll want the saxon 100EQ3 ED Refractor Telescope.

Read More Add to Compare

Live and breathe amongst the stars with the saxon 120/900 EQ5 ED Refractor Telescope.

This advanced ED refractor telescope features an aperture of 120mm, a focal length of 900mm and is manufactured with ED FPL-53 glass. This scope comes with quality parts and accessories from the Crayford focuser to the sturdy German Equatorial mount.

Zoom in on the swirls of the Great Orion Nebula and have your breath taken away by views of Pleiades and Hyades. The possibilities are endless with the saxon 120EQ5 ED Refractor Telescope.

Read More Add to Compare
You expect nothing less than crystal-clear images in your scope, but what are you going to do with the mount and tripod you already have? Mount it with the saxon 80/600 ED Refractor Telescope, that's what!

This telescope is designed with an extra-low dispersion (ED) glass to allow you to enjoy sharp, high-contrast images. Combined with the aperture of 80mm and focal length of 600mm, this scope is great for observations of deep sky objects such as planets, star clusters, galaxies and nebulae. 

Portable and dual-purpose to give you great views of terrestrial objects as well, there's just no reason to say no to the saxon 80 ED Refractor Telescope.

Read More Add to Compare

Make the saxon 100/900 ED Refractor Telescope part of your astronomy journey with its quality optics and portability.

With an aperture of 100mm and a focal length of 900mm, this telecope is perfect for wide field photography of both land and sky objects. Weighing just under 4 kg, this OTA can easily be transported around and mounted on your choice of mount and tripod. 

For a high-performing telescope at an affordable price tag, your choice has to be the saxon 100 ED Refractor Telescope. 

Read More Add to Compare

Astronomers will relish in the crystal-clear views offered by the saxon 120/900 ED Refractor Telescope.

This advanced apochromatic refractor telescope features an aperture of 120mm and a focal length of 900mm. Combined with this scope's ED glass, you'll be able to easily view night sky gems such as nebulae, star clusters and galaxies. This OTA model also gives you the option to mount this scope on your choice of mount and tripod.

For a telescope that performs everytime, it's got to be the saxon 120 ED Refractor Telescope.

Read More Add to Compare